Teatro Farnese
Built inside the Pilotta Palace by the Duke Ranuccio I Farnese in 1618, opened only ten years later for the wedding of Odoardo Farnese and Margherita de' Medici, the Farnese Theatre represents a very important step in the history of theatre architecture with a mobile scenery and its elliptic shape. Completely in wood, designed by Giovan Battista Aleotti (l'Argenta), it was opened with a spectacular sea battle, but used only nine times (the last in 1732). Seriously damaged in 1944 by a bomb it was restored during the '50s. Today is a museum, rarely used for concerts.
Teatro Regio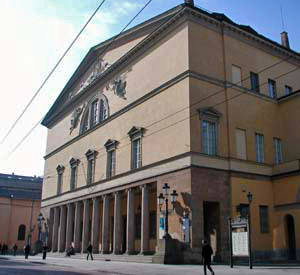 The Teatro Regio was commissioned by Marie Louise and opened in 1829. A sacred building for opera lovers, it was built by Nicola Bettoli, the court architect, in neoclassical style. The interior is made up of a foyer with stucco ionic columns and a big hall with red velvet and gilded stuccoworks. The big chandelier is from Paris. At the second floor the Ridotto (Annex) Hall used for lectures, temporary exhibitions, concerts and Gala Dinners.
Teatro Magnani
The theatre in Fidenza was designed by Nicola Bettoli, Marie Louise's court architect, in 1813, the year when Giuseppe Verdi was born. Finished in 1861, it's still now the main theatre in town. The interior keeps the original stuccoworks and decorations by Girolamo Magnani, after whom the theatre was named. The main hall is made up of three tiers of boxes and a balcony in a horse-shoe shape. At the second floor a nice Ridotto decorated by the same Magnani.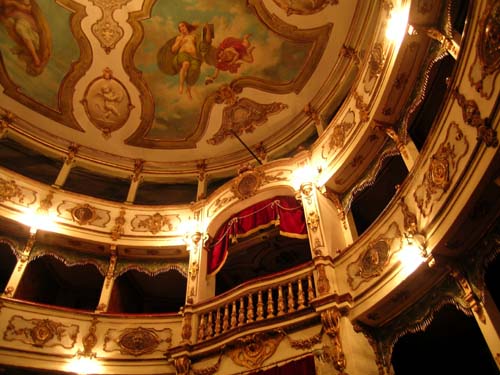 Teatro Verdi
Inside the Pallavicino Rock, in the heart of the village, the theatre was opened in 1868 and dedicated to Giuseppe Verdi (against his will): for the opening all the ladies wore a green gown and the gentlemen a green tie (Verdi in Italian is "green"). It was reopened in 2001 (a hundred years from Verdi's death). The theatre has a capacity of about 300 people.