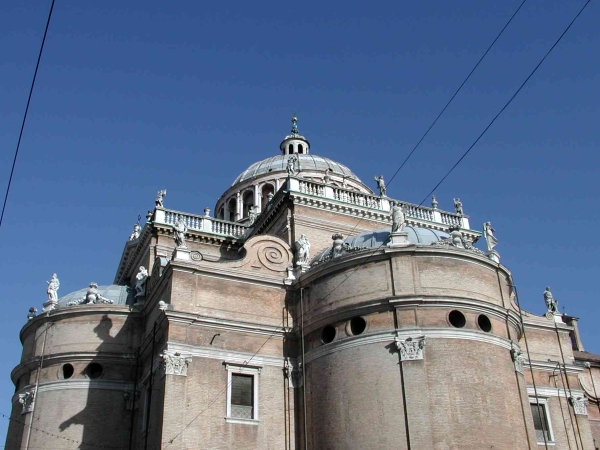 Only a few steps behind the Cathedral the church and monastery of St. John the Evangelist lay since 10th century (980), completely rebuilt at the beginning of 1500. Inside the church we find notable pictorial works, among them the dome with the death of St. John, frescoed by Correggio in 1520-21 and some frescoes by Parmigianino (Francesco Mazzola) in the intrados of three lateral chapels.
In the Benedictine monastery the cloisters and the Library are apen to public. The Historical Apothecary (now a State Museum) is worth a visit.
Notable traces of Parmigianino can be seen in the church of Santa Maria della Steccata whose most important treasure is represented by the fresco cycle of the arch above the presbytery, painted by Mazzola in 1530-39. It depicts the parable of the Wise and Foolish Virgins. The main altar contains the medieval fresco of the Madonna Suckling the Child, whose original location in a courtyard protected by a wooden fence (steccato) gave the name to the church.
steccataThe first work of Correggio in Parma is the frescoe in the Benedictine Convent of St. Paul: he painted the umbrella vault of the dining room in the abbess' apartment in 1518. This work is considered one of the highest examples of Italian High Renaissance art. Correggio created the illusion of a pergola with festoons of fruit held up by ribbons. In the center of the dome are the armorial bearings of Abbess Giovanna. On the fireplace Diana on a Chariot, preparing for the hunt, allegory of the Abbess who struggled against the civil and the religious authorities in order to keep her convent independent as it was since medieval times.
On the western side of the Parma river there's the so called Oltretorrente area with the church and monastery of the Santissima Annunziata. It was built in 1566 by Giambattista Fornovo. The plan of the church is curious, experimental for those times with elements that will be used by the great masters of the Barocco art. The stucco works and the decorations of the interior are by Luca Reti (beginning of 17th century). The organ is a work of Giuseppe Serassi.
The cloister, the refectory, the library and the chapterhouse are open to tourists. The chapterhouse houses objects, pictures and documents related to Lino Maupas, a Franciscan who lived at the turn of 18th century.