CLASSIC TOUR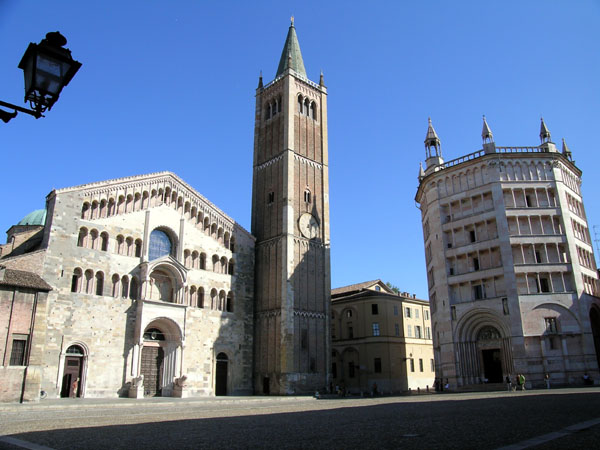 This itinerary includes the most important monuments in town: the Cathedral dedicated to the Assumption of the Virgin Mary (dome painted by Correggio in XVI century), Benedetto Antelami's Baptistery with marvellous XIII and XIV century paintings and the Bishop's Palace dating back to XI century. Moreover this itinerary includes the Pilotta Palace with the unique Farnese theatre. The visit is completed by a stroll through the historical centre that allows to see the Teatro Regio (Opera House), the main square and other historical buildings.
DUCAL TOUR
A walking tour through the city centre that allows to visit the most important monuments. The itinerary includes the "jewels" of the city heritage and visitors can enjoy the development of the town from Middle Ages until the birth of the Dukedom and on.
In the ducal park there's the Ducal Palace preserving marvellous XVI century - frescoes; the severe Pilotta Palace that houses the unique Farnese Theatre, the Bodoni's Museum (Print Museum) and the Museum of Antiquity.
The Museum dedicated to the duchess Marie Louise is in the Pilotta area on the opposite side of the Regio theatre. On the same Garibaldi street you can't miss the S.ta Maria della Steccata church that houses the last Parmigianino's frescoes and the crypt with the Parma dukes' tombs.